Category: Sett Vault.
Scope: Initial liquidity mining program for DIGG, meant to be improved upon as we go.
Status: Rejected

Objectives:
Keep DIGG price close to Bitcoin price.
Increase DIGG/WBTC liquidity in a sustainable way.

Overview.
This proposal's fundamental idea is to use the initial liquidity mining program to the benefit of DIGG's value as a product.
The more reliable DIGG's peg to Bitcoin is, the more valuable it is to DIGG holders and DIGG traders.
I propose to adjust the structure of DIGG/WBTC Sett to incentivize the price keeping the peg.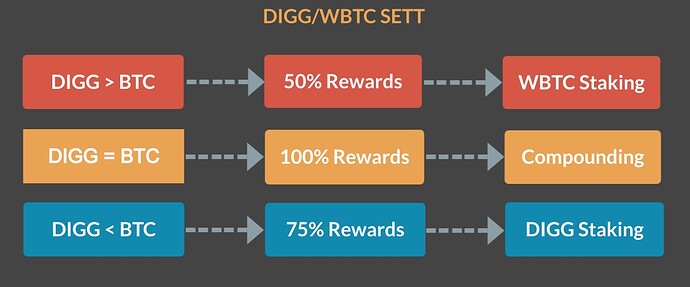 Details
.
When DIGG price is at the peg, DIGG/WBTC liquidity providers (LPs) get the maximum rewards from the liquidity mining program.
These rewards get compounded with the same strategy as Badger/WBTC LP Sett uses.
50% of DIGG rewards are claimable, and other 50% are reinjected into the LP pair.
LPs end up with 75% DIGG + 25% WBTC rewards.

When DIGG price is above the peg, LPs receive 50% of the rewards. These rewards get sold into the market for WBTC. This creates automated selling pressure for the token when it's needed.
LPs get 50% of rewards in WBTC.

When DIGG price is below the peg, LPs receive 75% of the rewards. These rewards are not sold into the market, so LPs get more DIGG. LPs' share of the DIGG supply grows during this stage the most, but it is still considerably more profitable for them to keep the peg price.

Implementation.
It makes sense to tie the switches in the rewards to rebase time. For example, if no rebase happens at the set time, the DIGG=BTC program is activated and LPs get 100% of compounded rewards.
As for technical implementation, it is not my area of expertise, so I would wait for the team to comment on the difficulty of this change.
Do you approve the proposed changes to the DIGG/WBTC Sett?
Yes
No
Neutral
Not Sure
Yes, but with different specifics