DIGG Buy Low - Sell High Sett uses the same rebalancing approach that was presented in the DIGG Rebalancer Sett.
The Rebalancer Sett always holds 1 DIGG and 1 WBTC.
In DIGG Buy Low - Sell High Sett, this ratio is a variable that changes based on DIGG price deviation from the target BTC price.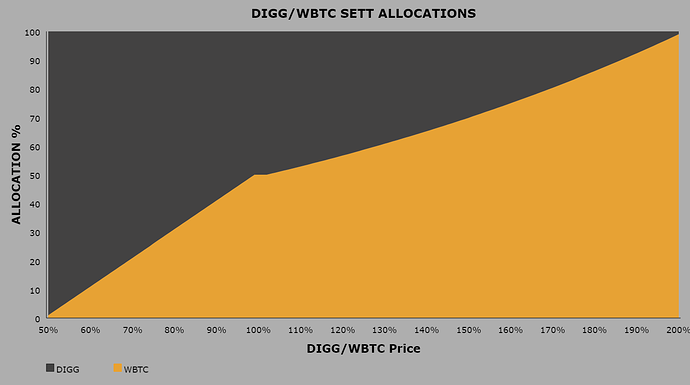 When DIGG price is around the peg, the ratio is 1:1
If DIGG price moves below the peg, the ratio changes in favor of DIGG. The lower the price, the more DIGG is automatically bought. At 50% of Bitcoin's price, the Sett allocations are 99% DIGG 1% WBTC.
The same principle applies when DIGG price moves above BTC. We end up with 99% WBTC and 1% DIGG if it gets 2x higher.
The higher the deviation of DIGG price from BTC price gets, the stronger the cumulative Sett's buying or selling pressure becomes.
Buy Low - Sell High Sett would serve as a strong price stabilizing mechanism for DIGG.
You can take a look at the specific numbers here. I've used arithmetic progression for the negative rebase phase and geometric progression for the positive. This way, the Sett creates a bit less selling pressure on the token than symmetric buying pressure, letting it expand a bit more.
To incentivize money to stay in the Sett, I suggest using a 0.5% withdrawal fee and the multiplier for the staking rewards similar to other BadgerDAO products.
As the Sett's usage would provide direct value for DIGG as a product, I suggest incentivizing it with continuous DIGG staking rewards. When it comes to developers, instead of a performance fee, I suggest rewarding them with a small percentage of the staking allocations the Sett will be getting.
Would you like DIGG Buy Low - Sell High Sett to be developed?