Category: Emissions.
Scope: Badger emissions between March 31 and June 30, 2022 (Q2)
Status: Under discussion here and in the #rff-emissions-q2-2022 channel on the Badger Discord.
Note: The original BIP has been revised with:
Adding 1552 Badger to bcvxCRV weekly emissions
Removing 690 Badger from ibBTC/sBTC weekly emissions.
TL;DR:
Keep Badger emissions for ibBTC and bcvxCRV on Ethereum, renBTC and Badger/WBTC on Arbitrum; remove the rest.
Allocate up to 8k Badger per week for testing new emissions programs/bribing/etc to be allocated at the discretion of the Badger Council.
Keep DIGG emissions the same as Q1 2022.
The net result is 20,000 BADGER per week emitted from the treasury in Q2 vs. 27,802 in the last week of Q1. This is a 28% reduction in emissions.
bveCVX is currently buying more than 12k BADGER per week and distributing it to its HODLers. This both creates buy pressure for more than half the treasury emitted tokens and makes up for the reduction in emissions to other Vaults.
Overview.

Badger manifested over a year ago with a mission to support Bitcoin in DeFi. We have learned in that time that there is an enormous amount of BTC looking for single asset yields, sufficient to arb just about any possible opportunity down to <5% returns. It has become clear that yields for a fully backed single asset BTC position are not something the DAO can support, especially with the way the Convex market has evolved.
We took the first quarter of this year to consolidate these learnings, leading to working on upgrades to the Vaults product, launching Citadel, restructuring bveCVX, and considering upgrades to ibBTC.
The bveCVX restructure recently passed in BIP 87 makes the vault profitable and self-sustainable. The new bveCVX has found a good market fit, demonstrated by a substantial increase in bveCVX deposits in the last couple of weeks. At the same time, it has created a regular buy pressure for Badger and supports the distribution of a significant amount of CVX and CRV yields to BADGER/WBTC on Convex.
With nearly 100,000 treasury CVX dedicated to generating yields on WBTC/BADGER instead of earning yields and bveCVX fees supporting its own liquidity, spending treasury Badger on emissions for Badger/WBTC on Sushi and bveCVX/CVX becomes redundant.
Other than bveCVX, which no longer receives emissions from the treasury, all of our vaults currently pay out more in Badger Emissions than they collect in fees.
We think there is medium to long-term value in maintaining depositors holding both BTC and BADGER. We also find the strategic value in keeping Badger distributions to bcvxCRV being part of Badger flywheel Vaults. Other than that, we see no reason to incentivize AUM cost-inefficiently.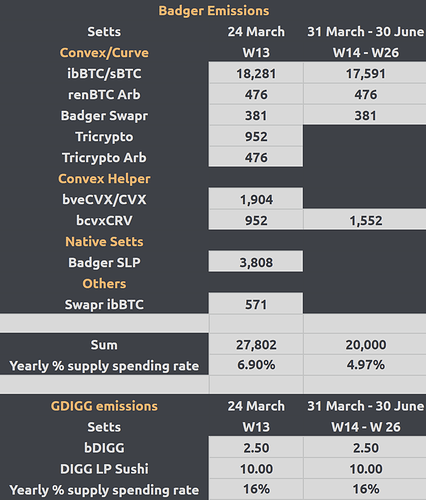 For the non-BTC vaults, the goal is to make them profitable, and the BTC vault profitability is something we plan to refocus on later in the year.
BadgerDAO is pushing quickly forward with new vaults, many of which are not single asset BTC and have the potential to generate double digit returns. The option to incentivize such vaults with BADGER from the treasury remains on the table, if economically sensible.
Badger treasury has plenty of capacity beyond the current level of rewards to incentivize new products and initiatives once they're developed.
The proposed schedule reserves up to 8k Badger per week to be used with the Badger Council's approval for testing and early implementation of the new emissions programs.
Specifics.

Compared to the Q1 schedule, the proposal is to stop emitting Badger to the following Setts: Badger/WBTC Sushi, bveCVX/CVX LP, Tricrypto (Ethereum), Tricrypto (Arbitrum), and ibBTC/ETH Swapr (Arbitrum).
With BIP 87 passing, bveCVX has become self-sustainable and profitable for the DAO, while supporting its own liquidity and voting extra for Badger/WBTC on Curve.
Instead of spending Badger emissions on it, the Vault now buys Badger and emits it to bveCVX and bveCVX LP holders.
bveCVX is currently voting with about 170k CVX per round on WBTC/BADGER yields and buying about 25k BADGER every two weeks to emit to bveCVX holders and LPs.
Thus there is no particular need anymore to emit extra Badger to BADGER/WBTC on Sushi and bveCVX/CVX LP on Curve.
As for the emissions going to the rest of the vaults, none of them are particularly cost-efficient or bring a lot of TVL or revenue to the DAO. All of our non-BTC vaults sit at under 1% pool capture, and pay more than 2x the value in emissions than the DAO takes in fees. If we stop the emissions, the vaults become cost-efficient by default, and it also makes the UX a bit cleaner, as users would be able to deposit in as many vaults as they want without worrying about it affecting their Boost in a negative way.
If the treasury runs out of DIGG to emit, the default approach would be to use DIGG from DIGG's treasury-controlled liquidity. There will soon be a governance around minting new DIGG to pay for emissions in 2022. Digg may also be minted for distribution to RemDIGG HODLers.
Implementation.

All the vaults that would stop receiving Badger Boosted emissions would stop being counted as non-native balance in the Badger Boost.
For Badger/WBTC Convex LP the DAO will launch a vault charging the standard performance fee of 20%. The Badger portion of the LP there will be counted as native in the Boost similar to Sushi LP. Badger in Sushi LP will keep being counted as native balance in the Boost. If this BIP is not approved by the end of the Q1 emissions, the Council will be asked to repeat the March 24th schedule for 1 week while governance concludes.
Due to the time constraints, the 48 hour snapshot will be posted on Monday if it has over 35 votes.
The BIP is subject to change based on feedback on the forum and/or the #rff-emissions-q2-2022 channel on the Badger Discord.
Vote:
Approve allocating 19,138 Badger per week from the treasury for emissions plus up to 8k Badger per week with Badger Council approval for other initiatives in Q2 2022
*Note: 20,000 Badger with the revised schedule instead of 19,138