Category: Boost
Scope: Give NFTs a BADGER denominated value in Boost
Status: Pending
Objective: Agree to an initial simple deployment for NFT boost inclusion.
Specifics:
There has been extensive discussion around how to incorporate the Badger NFTs into Badger Boost. A previous BIP proposed a model but the direct community response paired with less than overwhelming signaling in the vote was taken as a signal to go back to the drawing board.
There are some upcoming proposals for further changes to boost that will go through the rff>BIP>Snapshot process but it is important to settle the NFT question now so that it doesnt get put off further until after all of the upcoming discussions and changes are done. This proposal is just to set a starting baseline for including NFTs. It can be updated or modified in any way in the future as boost and the Badger NFT ecosystem continue to evolve.
The newly proposed model is simple. Each NFT will have a BADGER value associated with it with which it will count towards boost. Each group of NFTs has a baseline value each one of the unique NFTs is worth (for boost only, not redeemable) and then the rarity determines each individual NFTs BADGER value. So far each of the BADGER NFTs has been an erc-1155 meaning that there are multiple of the same NFT (tokenid).
The value breaks down as below:
Honeypot = 5,000 BADGER per tokenid (6 different tokenIDs, 30,000 BADGER total)
DIGG Diamond Hands = 10,000 per tokenid (3 different tokenIDs, 30,000 BADGER total)
Badger Jersey = 40,000 per tokenid (1 tokenID, 40,000 BADGER total)
This will amount to up to 100,000 BADGER value available (towards boost only) immediately. The below chart shows the detail.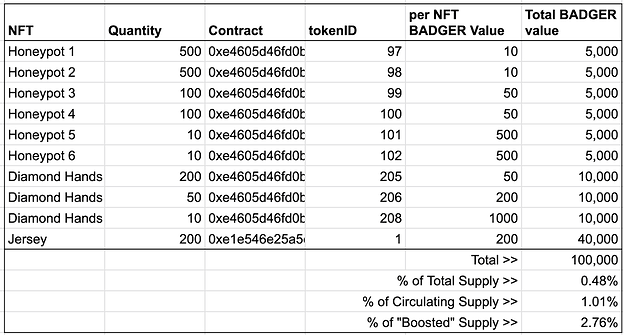 This adds up to just under .5% "boost inflation" on total supply, 1% of circulating, and 2.76% on BADGER that is actively contributing to boost. As stated above this is just a starting point. There are also multiple other fairly significant proposals coming that will affect boost and the NFT scores can always be re-assessed after. When new NFTs are dropped governance will be needed (as either part of the drop or after the fact) to assign a Boost value.
There is one additional open question. Whether or not to count all the NFTs an address has even if they are the same one. All of the current NFTs are erc1155 meaning that there are multiple of the same tokenID and one address can hold multiple of the same NFT. The question is whether or not to count all of the NFTs of the same contract/tokenID pair an address holds (Stacking) or just one (Not Stacking). A vote for not stacking would mean if an address has 2 jersey NFTs, only one would count towards boost. A simple majority on the Stacking vote will then decide which option is presented in the snapshot.
EXTENSIVE conversation has occurred in the discord here: Discord
VOTE
Count multiple of the same NFT per address (Stack) or just one (Dont Stack)
Implement Model as Presented