Title: Badger Boost (Current Multiplier Replacement)
Category: Emissions
Goal: Add more utility to the Badger token through introduction of Badger Boost
Scope: Institute Badger Boost which will boost rewards for those holding more badger proportionally to those holding less badger.
Status: Accepted https://snapshot.page/#/badgerdao.eth/proposal/QmXT2s9r8Tu58TekUMF3crUS4ySePxMaAsSERt7nZieHAb
Overview
We want bBADGER and bDIGG (BADGER and DIGG that has been deposited into a sett) to be productive assets. Using something as collateral for a loan for example is a more effective lockup than staking. This lockup takes these assets off the market, which amplifies upward price pressure whenever there is demand. An increase in value in the underlying assets is positive for BadgerDAO as they will always make up a large portion of the treasury. It also means that less units of them can be given out to non-native setts to ensure competitive APY. The Badger Boost is a proposal to create utility and demand for BADGER. To get to that point though there are a number of changes that need to be made which I have
Proposal 1: Remove Staking for Native Setts and reinvest 100% of rewards
Native = Any BADGER or DIGG sett (single asset or LP), non-native = All other setts (ex. all crvBTC setts)
There was A LOT of discussion around this idea and ultimately we think it is the best way forward for a few reasons.
All Sett tokens (bTOKENS) become very composable and users can keep earning rewards. We hope to create more utility for these tokens in the future.
Users no longer miss out on any compounding returns by not claiming because of high gas fees. This is a big issue especially for smaller accounts
Proposal 2: Denominate all rewards in bBADGER and bDIGG
This is a gas saving measure, no claiming and re-staking. It does add a step for LPs but we think with the auto-compounding of 100% of rewards as described in proposal 1 this is an OK tradeoff.
Proposal 3: Create "Badger Balance" and "Digg Balance" calculations, use them for cross asset rewards, and establish destination whitelist procedure.
These will include whitelisted locations where bDIGG, bBADGER or other bTOKENS for native assets may be held, staked, or deposited. When distributing bDIGG to BADGER holders and bBADGER to DIGG holders we cannot re-invest them since its a different asset. We will use the "BADGER Balance" and "DIGG Balance" contracts to determine distribution. This means that native assets being distributed to other native assets will not be broken down by sett. As new use cases are launched for native assets we will need to updated these contracts to account for them so we will put forward a BIP in the future for this process.
Proposal 4: Align BADGER Balance with snapshot voting contract
To keep things in line BADGER Balance will be based off of the current configuration in the snapshot contract and will remain in sync as changes are made.
Proposal 5: Introduce Badger Boost as multiplier replacement
The Badger Boost will apply to all non-native setts. The higher your BADGER Balance and DIGG Balance, the better rewards you get on your non-native setts. This is done through calculating a "Stake Ratio".
Stake Ratio = [$ value of BADGER Balance + $ value of DIGG Balance] / [$ Value of non-native staked sett positions]
There will be a max multiplier that gives your position weight a boost based on where your Stake ratio falls in relation to all stake ratios.
What this means is that for any addresses staking equal value of non-native setts, the one with the highest Stake Weight (Badger + Digg in whitelisted locations) will get the most rewards.
This will be applied to all non-native setts and be used for the distribution of native assets.
You can see how this looks with sample data here: https://docs.google.com/spreadsheets/d/1EN9jlL31aiwQpOJxcOJa6OXDl9KdFdPNDevRdBuYSq4/edit?usp=sharing
I am suggesting the max multiplier be set to 3, but leaving to a vote. In this scenario those not staking at all will get 50% of the rewards they would otherwise while those with the highest stake ratio will get 150% of the rewards they would otherwise. Here is how it plays out for multipliers 1-10.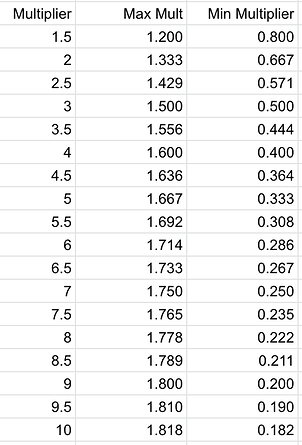 These proposals all work together and we think provide some real benefits the community has been asking for
Save gas - You dont miss out on compounding rewards by not claiming due to high gas
Benefits to smaller accounts - It is easier to have a good Badger Ratio for smaller accounts. If you have $5,000 in BTC staked you can buy $5,000 of BADGER with low to no slippage. If you have $10 million in BTC staked you would need to buy the entire circulating supply of BADGER to match the smaller stakers ratio
Improved composability, use your bBADGER and bDIGG without missing out on rewards or staking bonus
Polls
Proposal 1: Make all native setts 100% compounding rewards?
Proposal 2: Denominate all rewards in bDIGG & bBADGER?
Proposal 3: Create "Badger Balance" and "Digg Balance" contracts, use them for cross asset rewards, and establish destination whitelist procedure
Proposal 4: Use Badger Balance for vote weight in snapshot voting (align voting and rewards calculations)
Proposal 5: Implement BADGER BOOST as current multiplier replacement
Proposal 6: Value for Max BADGER Boost
Huge thanks to @Mr_Po for extensive discussions on all aspects of this BIP & @DeFiFrog, @mason, @Spadaboom for their valuable contributions.