Category: Digg
Scope: Vesting Mechanism for Digg Initial Distribution
Status: Rejected
Objectives
Explain the benefits of tried and true vesting mechanisms
Explain the rationale for the parameters
Gather opinions regarding the arbitrary parameters
Seek approval and consensus on the approach (For/Against)
Overview
Vest all DIGG rewards for n months with possibility of dai/week/month-ly withdrawal. All rewards can be automatically staked into BADGER/DIGG pools to compound user reward yield. Depending on the withdrawal period, gas for auto-staking/compounding the regards could be subsidized by the DAO.
Rationale
We must learn from other successful protocols like Synthetix, Compound, Akropolis, & co. At Akropolis, we failed to introduce rewards vesting in the beginning, a complete oversight caused by the desire to get the most out of DeFi summer and potentiate user acquisition. The result was massively increased volatility as the opportunity cost was much too high, and the collapse of ADEL's price—the rewards were high enough to justify the supremely high gas prices at the time (400 Gwei). Vesting would have remedied that, if not fully, at least in part, and significantly so.
DIGG is an algorithmic coin pegged to BTC so it is slightly different as the value accrual mechanisms differ, but the increased volatility that will certainly ensue will still exponentially accelerate wealth transfer from smart money to dumb money. Most struggle to understand rebasing coins and so our target groups can be segmented into two: the first one doesn't understand algorithmic coins well enough, and will immediately sell due to fear, lack of understanding, and a scarcity of time to study in order to remedy this; the second one knows how rebasing works, but is aware that most don't, so they sell because they know the other group will, with the promise of buying back later at a lower price, adding to the centralization of the project.
Having learned from the aforementioned protocols, to dampen sell side pressure and volatility, one must introduce vesting. To align incentives, I propose the addition of vesting to the emissions of the DIGG token. Moving forward, I believe a vesting schedule for soon to be distributed DIGG will be the correct manner in which to keep incentives aligned as our TVL grows larger and new users are onboarded.
Rebasing coins strive to be pegged to a certain asset, as well as to reduce volatility to as close to zero as possible (see ESD). When there is excessive volatility, risk takers go in and money flows from dumb to smart. If we dampen the volatility from the very beginning, it will encourage a greater decentralization as more accounts will partake due to the decrease in the perceived risk. So no, this is not just for governance tokens, it is also important for elastic supply coins like AMPL, DIGG, BASED, BAC, and so on.
When it comes to algorithmic stable coins, you want to start in the middle of the sine wave, not the beginning. Read this thread on DSD.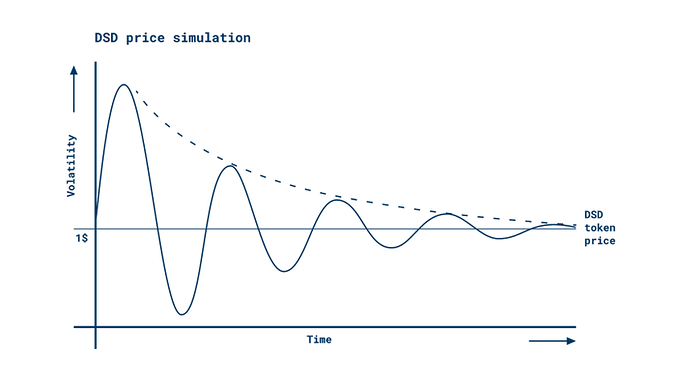 How?
Rewards are locked into a vesting contract and can be seen in the UI but not transferred.
A portion of them can be unlocked weekly or monthly with n months total vesting.
Unlocked rewards can be automatically transferred into your staking contract (as an option), to compound reward yield.
Parameters
1. Earned Rewards
Earned Rewards mean Total DIGG an address has is entitled to.
This parameter indicates how much an address has supported Badger by using Sett products.
2. Vesting Period
Vesting period is the period in which rewards will be locked. The DAO should decide on the adequate vesting period. I suggest between 3, and 6 months.
3. Withdrawal Period
Withdrawal represents the frequency in which a user can claim or auto-stake their rewards. The DAO should decide if this should be daily, weekly, or even monthly.
Implementation
Voting for and against.
Decide arbitrary values for aforementioned parameters.
Implement vesting contract.
Vote on proposal for distribution mechanics above