Hi Badgers
You probably already saw this tweet: https://twitter.com/BadgerDAO/status/1369717511269257221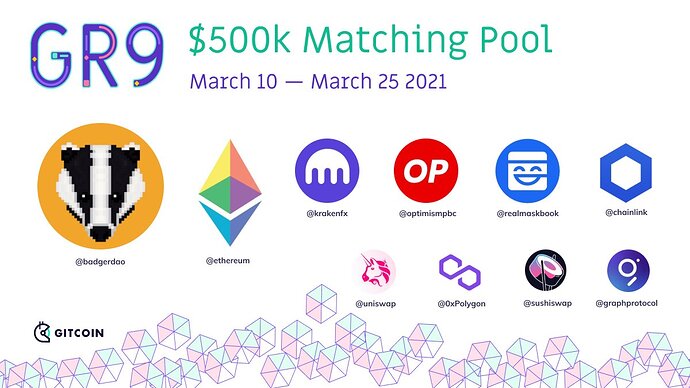 Once again BadgerDAO is fully engaged in the ecosystem as it will give 300K to help projects on Gitcoin.
Most of you probably discovered Gitcoin a few months ago with the Gitcoin airdrop. This was a wonderful start as it gave exposure to this amazing platform. Unfortunately a lot of people only gave to receive the airdrop and people even created grants just to receive donation made by stressed people only wanted to make a donation in order to receive the airdrop.
I just would like to highlight the fact that Gitcoin is an essential platform as it helps projects to rise money in order to growth. And this is even essential for some projects as it is their only source of funding. New users probably don't realize that. But when you use a dAPP , a wallet … Some people developed it, sometimes during weeks/months/years. Those dAPP allow you to make money, or just make your life easier, and you don't even realize it. But sometime, it's also nice to give back to those people and/or help to develop new projects you will use in the future. Remember that the ecosystem is like that, because a lot of people are working to build and improve it every day.
They is no airdrop planned for this round ( I guess), but it would be nice if badgers can do something as a group and help the community. Here i'm not speaking about the DAO, as the DAO is already giving 300k !!! I'm speaking at the level of each Badger.
I'm proposing to make a list of grants lead by a Badger (a member of BadgersDAO) . So other Bagders can help them.
There are different ways to do it. Badgers share their grants here (or on a specific google doc). Or we can be more organized and someone from the core team create a list on Gitcoin. So then each badger will just have to click on a link.
Remember that even $1 is a big donation with the matching.
ps: And it could be nice for the future is more projects to organize aidrops !
Should we do it and are you willing to contribute ?